The 2009 Bar Exam finally ended on October 4, 2009, the exam was supposed to be held on all four Sundays of September but Typhoon Ondoy (international name: Typhoon Ketsana) dropped around six months worth of rain in just about 8 hours.
I am Bar Exam retaker, I previously took it in September of 2008 but things didn't work out, so I took it again this year. When I received the call that I didn't make it last April 3, 2009 when the results were released, I felt my head crack. I felt sick. But because I am a psychopath, I didn't allow myself to grieve all that much. Besides, grieving resolves nothing, so on April 5th, I made reservations with EGI Taft Tower Dormitory for another 2 months stay for the 2009 Bar Exam. I planned to stay there for the months of August and September.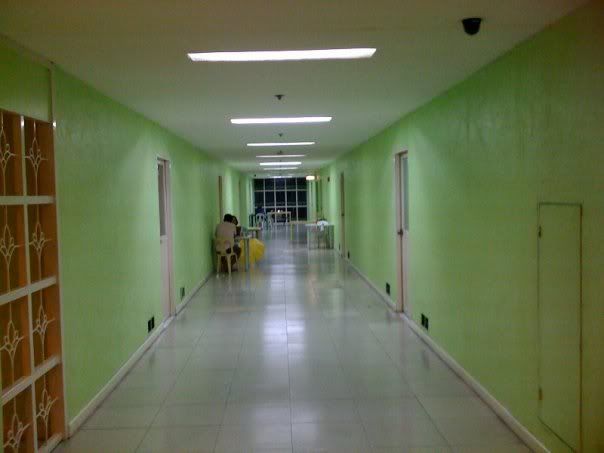 (6th Floor Corridor. It looks like a hospital, right? It's more like an insane asylum for us.)
Being a retaker (or T2 for some people), some of the pressure is of, but then again, considering that I come from a family of lawyers, some cannot even imagine the pressure I'm under though I just take it in stride. The Supreme Court OBC made some changes with the exam, they introduced the two-examiner rule wherein instead of the usual one examiner per subject, two examiners would be making the questions. Then there was the question on how were we going to answer in the notebook. Since all of this was experimental, I didn't realize that the exam notebook itself would be divided into two parts.
People think that the checking would be quicker this time since each examiner would be checking his part only but I don't think so. What would be most likely would be that each examiner would just divide the total number of notebooks and check all the notebooks between them. None of this so-called cutting the notebook in half. That isn't feasible nor is it practicable, to say the least.
Some first timers were so quick to say that Justice Nachura would be lenient during the checking and that the passing percentage would be high this time. I say: that's a crock of bullshit. Although Justice Nachura would have a say, it is still the Supreme Court En Banc that will decide on the passing percentage! Just take a look at the results for 2008! They said Tinga was lenient yada yada yada and for two years in a row, the passing percentage was extremely low.
The number of takers this year is approximately 5,080. That's almost a thousand less as compared to last year's exam. Actually, it's lesser by about 200+ since around 200 never get to complete all four Sundays. Then there was the news of a coming storm during the 4th week of September, the week before the Remedial Law and Legal Ethics & Practical Exercises exams. The skies around Manila grew dark on thursday and it started to drizzle, not that we mind, considering that DLSU was just our next door neighbor, we can always walk towards the examination site even if it would flood. Taft Avenue usually floods for a couple of hours when it rains but little did we know that the dark skies hid something more terrifying: Typhoon Ondoy.
On September 26, 2009, the rain came down without any let-up from around 9:00 til 4:00pm, Taft Avenue was already flooding, and from the 9th floor looking towards Leon Guinto Street which ran parallel to Taft Avenue, the floodwater was already waist deep. Taft was only around knee deep by noon time. Sometime after lunch while I was in my room, I was bothered by the racket in the corridor, what the fuck was going on outside?! Why the hell was it so noisy?! Then I received a text message, I wasn't able to read it since I received a call from my sister telling me that the Sept. 27, 2009 exam has been postponed and moved to October 4.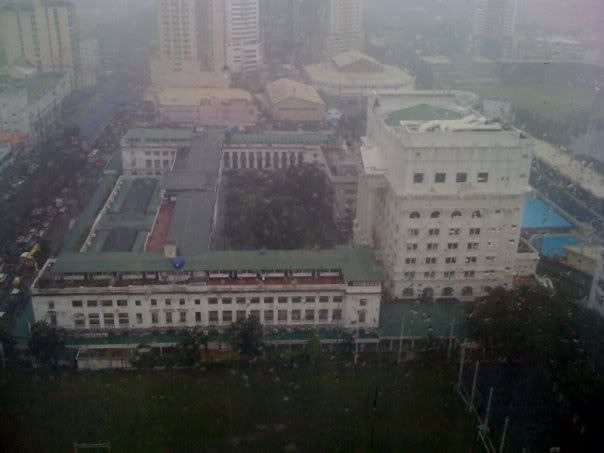 (DLSU before Taft Avenue was flooded)
I was so happy that they moved it but reality sank in. Shit. I am supposed to be back in Cebu by Sept. 29. Lecheng yawa! I thought that my lease contract would expire on Sept. 30 and I'd have to pay the transient rate of PhP 850.00 per day til Oct. 4. This is not right. A week's extension is not just an added burden, it is torture!
Little did we know that Typhoon Ondoy brought disaster to the Metro.