And how they hate it indeed.
---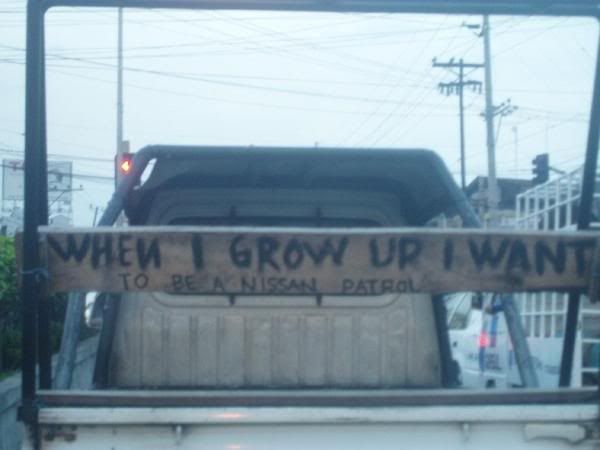 Isn't that what we all wanna be?
---
For your information, the time now is
Aren't you supposed to be Googling for PORN right now?!
---
BLOGGALORE
MAGDALO
Atty-at-Work
Random Thoughts & Things
Ladyracer
Jessica Delfino
Barely Legal: The Blog
La Vida Lawyer
Twisted
MLQ III
Disturbing the Universe
---
LINKS
Cebu Heritage Watch Online Resources
Filipino Artists for National Democracy
Philippine Center for Investigative Journalism
Boljoon Hometown
League of Filipino Students
Get Real Philippines!
The 70's
Sundalo: Tagapagtanggol ng Pilipino
---
FAC UT GAUDEAM
---

Join the Blue Ribbon Online Free Speech Campaign!
---

This work is licensed under a Creative Commons Attribution-Noncommercial-No Derivative Works 3.0 Philippines License.

| | |
| --- | --- |
| | Wednesday, March 25, 2009 |
Little Flower of Jesus Academy
The
Little Flower of Jesus Academy
was the precursor of the University of San Carlos' basic education department. It was located one kilometer away along Mabini Street from it's main building on P. Del Rosario Street. The Little Flower of Jesus Academy survived the ravages of time, a revolution, a world war, but fell prey to modernization.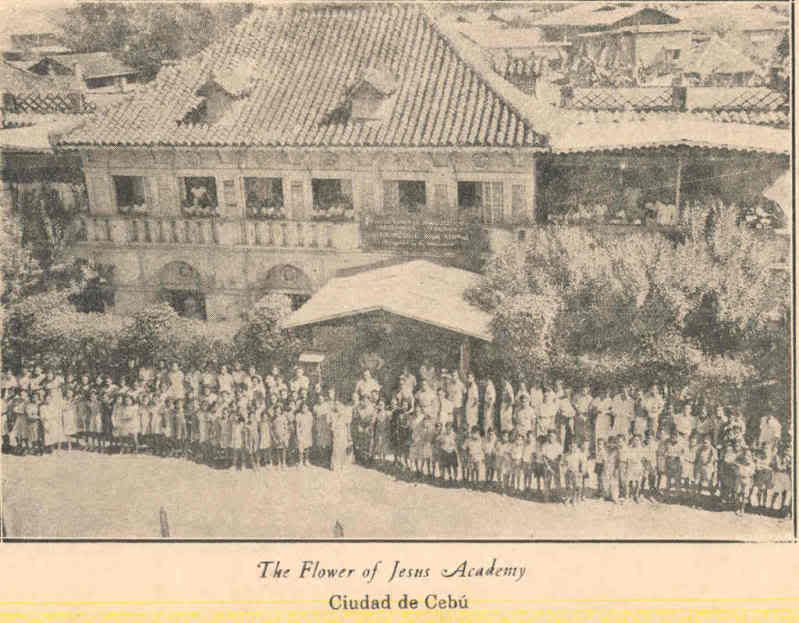 During the reign of Julio Cardinal Rosales in 1967, the compound of the Little Flower of Jesus Academy was demolished. During his reign as Cardinal, several colonial structures were demolished with or without his permission; history has shown that he was not too keen on heritage conservation, under his reign, Cebu bore witness to the obliteration of Cebu's cultural and religious history with the demolition of centuries old buildings and structures administered or under the jurisdiction of the Archdiocese.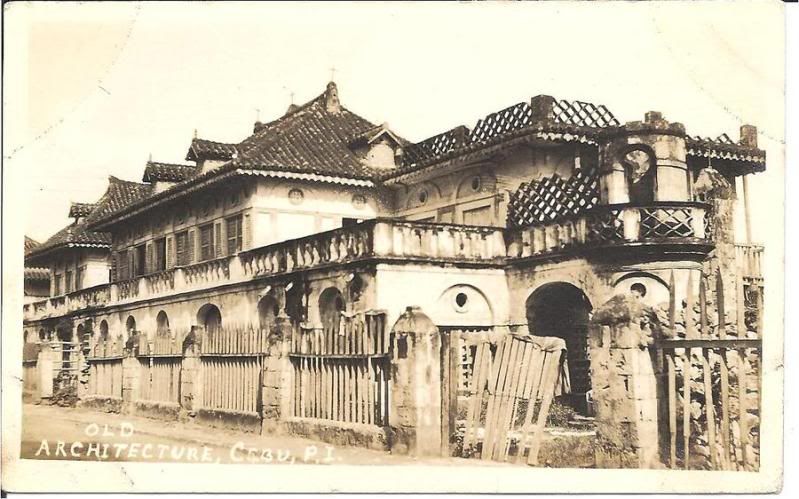 (Little Flower of Jesus Academy with the
tourelle
-type
aljibe
or cistern at the side)
Like most well-to-do residences of the time, the Academy had an
Aljibe
or a cistern for drinking water. This storage for water is also called cisterna.

It is usually below ground and its walls are covered with masonry or brick vault, well-built and whitewashed.

Canals fill it with rainwater through a filtration system.

Water first passes through a chamber called purificador
(water purifier), which functions as a filter and where impurities are trapped. These chambers are located a few meters from the cistern and, at times, is confused for its outlet. These cisterns are crucial because they guaranteed survival during an extended blockade or drought.
(a closer look at the
aljibe
)
Posted at Wednesday, March 25, 2009 by CAFFiend
Permalink
Boljoon Archaeological Dig: 4th Field Season
Please find time to drop by, to volunteer, or just to enjoy the scenery (or maybe, even donate).
This is the public announcement. Archaeology has been spelled in the British way, this has been corrected already.
Posted at Monday, March 16, 2009 by CAFFiend
Permalink
A (KIMBERLY) Burden(some) Issue
Kimberly Burden - 2nd Runner up (loser. and a sore one at that) Miss Cebu 2009.
These past few months we have been bombarded by this
BURDENsome
debacle. While the pageant itself is indeed a showcase (of mongrel half-breed Filipinos). They don't even have Filipino sounding names!) their wit, their talent, it is not the real world. Beauty pageants such as the Miss Cebu is nothing more than fluff, it is frivolity at its finest. Fine, so this Kris Tiffany Janson bagged the title, then what? Would her bagging the crown make this world a better place with her hand waving and this talk about "world peace, love, friendship" cliched rhetoric? Hell no.
Kimberly lost all because of a snafu (a lot of people especially in the bizarre-o world called the internet have been using the acronym SNAFU, most of them don't even realize that it means
Situation Normal: All Fucked UP)
with this perceived or alleged vote switching with one of the minor awards. Beauty pageants is nothing more than escapist entertainment for the depressed masses. Show us a little glitter and a little glamour and will clap our hands to the prettiest one whose tits would bounce better.
I find these talks of "switching awards" taxing to the senses, if it were an election, now that would be something else. But a pageant? Oh please! I have more fun watching catfights on YouTube as compared to this Burden character and her mother going ape-shit in the media as to how her daughter was cheated blah blah blah yada yada yada. Madame
Doctora
Burden, are you living up to your surname? It looks definitely like it.
It's just a pageant, plain and simple. There still lots of pageants for your daughter to join in if she still wants to (or up until she loses her luster due to age, marriage or childbirth), so you people are now going to file cases left and right? I'm no judge, but I'm a good judge of character, looks like you two don't have an iota of it. And yes, being second place is not tantamount to winning, that much I'll agree with, winners go home and fuck their boyfriends, second places get diddly squat.
I am no fan of our mayor, Tommy Osmena, but this time I will definitely have to agree with him when he said,
"It's a waste of time. As a matter of fact, that was the worst over-exposed, ridiculous issue I've seen in all my years as mayor. will see her (Janson) and I will give her an award next year as an outstanding citizen. That to me is a conduct becoming of a Ms Cebu, dili pala-away (not seeking trouble). She could have done that because she is Miss Cebu.
Miss Burden is only Miss Cellphone
."
And with that remark, Dr. Burden (Kim's mom) cried foul. She bewailed at how insensitive and cruel the mayor was. The mayor in his candid and brutal lack of tact (which I love --sometimes), said that Janson (Miss Cebu 2009) has never issued any negative statements against anybody, not even to Kim Burden and her family. That in my book is the criterion of what a Miss Cebu should be, not this rampaging behemoth cry baby we keep on reading about in the papers. If there's one thing that the Burdens need to learn is that if they keep on making noise, everybody will get tired of your whiny crap. You think that the people will rally to your cause? What cause is that? You are merely giving us a headache with all this whining. We have better things to do, like changing the oil in my pick-up truck, or browsing through an old FHM magazine in the bathroom.
If I were mayor Tom, I would have aptly used these choice words from
Scrubs
:
"I know this is tough for you, what with you 
being 

psychotic

 and all..."

Posted at Friday, March 13, 2009 by CAFFiend
Permalink
(March 24-April 1, 2008) Boljoon Excavation Phase III
I almost forgot to update my entries regarding the Boljoon Church (Patrocinio de Maria, Cebu). Here's an update from Mr. Jobers Bersales of the Sociology and Anthropology Department of the University of San Carlos:
Phase 3 March 24-April 1, 2008 Excavation.
Let me digress a bit from the pressing topic at hand about Oslob and invite you to savor with me the finds we got from our third phase of the Boljoon Archaeological Project. This phase of the project is funded by the Spanish Program for Cultural Cooperation and will is currently running from March 24 to April 24 (back-filling of all excavation units will be on April 22).
Everyone is free to visit and make chitchat on site , take photos, doze the afternoon off on our bunkbeds or hammocks or even use brush and trowel and join us for what will probably be the last dig on the grounds of Boljoon Church.
Below are highlights from Week 1 of the 4-week excavation:
The Excavation Site. we dug here because Boy Cairo, the local maintenance man of the church told us he had dug part of a skull the week before we arrived while digging for a post for a volleyball net---see what accidental diggings can do! But we are proud of this heritage awareness: his workers immediately reported the find to him and then they covered the exposed part of the skull with a piece of roof tile and then refilled the hole, knowing that we were coming in a week's time. They then pointed this out to us.
Burial #17, to the right of the burial that was first unearthed by workers (see above). About 60 cm from ground surface. Probably an adult female, this burial had perfect set of filed teeth and was wearing a carnelian bead (orange), most probably imported from China or India, a gold ring (broken) and some parts of a gold decoration on a long decomposed necklace made of fiber. She was also accompanied by a white ware in the form of a covered powder box, with the powder still adhering in parts inside. Below are her "goods":
Carnelian bead worn as part of her long-decomposed necklace.
the covered powder box, glazed white ware, undecorated, with powder adhering inside.
her perfect set of filed teeth
Burial #20, to the west of Burial 17 in the same North-South positioning (head oriented south). About 50 to 60 cm from gound surface. Probably male, owing to position of arms (crossed) and shallow hip hip bones. So far our burial with the "richest" (note quotation marks!) grave goods comprising the following:
Gold earring which can be seen on near the right side of his cranium where the ear would have been.
The gold earring, seen from its rear side.
The gold earring, seen from its front side.
In the book "Ginto: History Wrought in Gold, The Bangko Sentral ng Pilipinas Gold Collection", similar versions of this earring can be found on pages 97 and 98.
Earthenware pottery, with soot on the bottom indicating functional value,
this probably contained food for the journey in the afterlife.
Thai jarlet or bottle with inner glazing, found at the foot of
Burial #20.
We also found bronze medallions for house posts in the Spanish and American period as well as a Spanish structure of stones near the convent which contained a bronze crucifix (depth: 80 cm from out datum point).
Members of the Archdiocesan Commission for the Cultural Heritage of the Church came by to visit Boljoon and look at the excavations last April Fools Day. Among them were Archt. Melva Rodriguez-Java (not in photo), Fr. Brian Brigoli (in green shirt with shades) Mr. and Mrs. Loy Alix, Trizer Mansueto etc. Ricky Jose and Archt. Manalo were with them. They had just come from Oslob to document whatever was left of the tragedy.
Posted at Tuesday, March 10, 2009 by CAFFiend
Permalink
Filed under Language, Cebu, Expo
CEBU Province is 101 percent ready for the historic culture and arts festival, dubbed as "One Visayas: One people, One Destiny."
In a press conference last Feb. 26, members of the technical working committee talked about the eight-day event, which will kick off on March 1 with a mass.
The activity's highlights will include lectures on music, language, visual arts, indigenous and colonial architecture; workshops; film showings; cooking demonstrations; theater performances; nightly performances; and street dancing from Regions 6, 7 and 8.
Products from the 16 provinces that comprise the Greater Visayas Region will also be on display at the Cebu International Convention Center, where the activity will take place.
"One Visayas" is patterned after the "One Cebu" made popular by Gov. Gwendolyn Garcia.
It is the brainchild of the Regional Development Committee, the umbrella organization of the Regional Development Councils of Regions 6, 7 and 8.
The activity is open to the public.
Top officials in the Visayas regions yesterday agreed to hold a weeklong expo on February 2009 to showcase their different products, arts, cultures and festivals.
Cebu Gov. Gwen Garcia said the project "One Visayas, One People, One Destiny" aims to strengthen cultural bond among the different islands in the region.
"Instead of quarreling with the people in Manila, we in the Visayas regions started to look for the commonality in us, something that we can work on," said Antique Gov. Salvacion Perez.
"We hope the national government will emulate our example."

The One Visayas project was conceptualized during a recent meeting in Iloilo City of heads of the Regional Development Councils (RDC) of Eastern, Central and Western Visayas .
The concept is is similar to the "One Cebu" program of the Cebu provincial government, which partnered with the Mandaue City business sector in putting up an exhibit of local products at the Cebu International Convention Center (CICC) from August 8 to 15.
Governor Garcia said the One Visayas project will be an even bigger expo held side by side with a Visayas Arts Festival in Cebu.

Cebu will be the venue for the first "One Visayas" expo and the Visayan Arts Festival since Cebu is center of the Visayas regions.
"We are looking at a much bigger expo, but this time encompassing the entire Visayas islands," Garcia.
Organizers also hope to promote the Visayas as a tourism hub by bringing different festivals here.
They also plan to mount a a climate change summit to showcase best practices of local governments in addressing the danger and effects of climate change.
"We are looking at a seven-day festival to showcase the best that we have," said Perez.
Visayan officials were at the Cebu Capitol yesterday morning to plan the February 2009 activity.
A committee was formed to work on the preparations.
Present during the meeting were Perez, who heads the Region 6 RDC, Leyte Vice Gov. Mimyet Bagulaya and a representative of Calbayog Mayor Mel Senen Sarmiento, who is the RDC Region 8 chairman.
The group discussed the project with Garcia and Cebu Provincial Board Member Agnes Magpale, who heads the committee on tourism of the Cebu Provincial Board.
After lunch, the group visited the provincial jail and the new Museo Sugbu located at the old provincial jail in Tejero, Cebu City.
Governor Perez of Antique said that with the cooperation shown by Visayan officials , the project was a a good opportunity to learn best practices of each locality.
She said she wanted Anique province to adopt Cebu's Suroy Suroy sa Sugbu tourism caravan, the Pasigarbo festival and the Sinanduloy program, which promotes the cultivation of camote to counter the rising prices of rice.
Posted at Sunday, March 01, 2009 by CAFFiend
Permalink
| | |
| --- | --- |
| | Tuesday, February 17, 2009 |
By Jobers Bersales
Cebu Daily News
First Posted 10:35:00 01/15/2009
Filed Under: history
Retrieved from the Cebu Heritage Watch Skyscrapercity forums.
Cebuanos say "
gi-murder
" when we refer to the emasculation, misrepresentation, or misappropriation of a name, or an event as in "
Gi-murder ang akong name
" when your name is misspelled whether intentionally or not. How would Cebuanos feel when it's not merely their names but their history that has been emasculated?
Consider the following lines from a book about Cebu published by a Korean firm: "Travelling under the flag of Spain, Ferdinand Megallan arrived in the fishing village of Sugbo in 1521 and planted a huge wooden cross in the island as a symbol of Christrianity. The cross can now be seen in the street of Magellan, named after Magellan."
If you don't find this disturbing, go on to the next paragraph of that same book: "On April 3, 1808, Gen. Leon Kilat led the Cebuano revolution against Spanish colonialism…. Anticipating the revolution, Miguel Lopes de Legaspi, a Spanish official, and his men constructed a small military fort that is now the Fort San Pedro. The following year, American troops led by Commander George Dewey arrived and finished the revolution for the Cebuanos, and Fort San Pedro fell into the hands of the revolutionaries."
This sweeping account of Cebu's history is one for the books! The Tres de Abril Revolt in 1808? Miguel Lopes (note the misspelled name!) de Legaspi building a military fort (aren't all forts military in nature?) the year after? Worse, Commander (not Admiral) Dewey came to Cebu to help in the revolution?
Read on: "On February 24, 1937, Cebu was granted its Charter. On April 10, 1942, during the Japanese Occupation, the Japanese military favored Cebu for its strategic location. In March 1945, Cebu experienced a Hellenic event when the world focused its emporium on Cebu, which was considered as the 'Cradle of Christianity' in the Far East."
It was Cebu City that was granted its charter. To say that it was "Cebu" only is to confuse the island and the province from the place that received its charter. Moreover, April 10, 1942 is the exact date of the Japanese invasion of Cebu, some four months after the Japanese entered Manila. It was not for Cebu's strategic location that they came; it was because the Japanese were now expanding their control over the archipelago southwards! The movement to the south was logical because Luzon had already been overrun and safely in Japanese hands! In truth, as history would show, the strategic points of the archipelago were Lingayen in Luzon, Leyte-Samar in the Visayas and Davao in Mindanao – the very places where U.S. forces landed in the run-up to Liberation.
What is this Hellenic event in 1945 that placed Cebu as a top destination in the commercial map? A city routed and virtually razed to the ground suddenly becomes the emporium of the world?
I invite the Department of Tourism to scrutinize this very well-packaged book entitled "Club Cebu: Your Complete Guide to Cebu's Best" and ask the Korean publisher, Ok June Hwang and the Wincard Discount Marketing and Services, to make the necessary corrections on this important piece of the book. And while they're at it, perhaps it is time for DOT to request for translations of Cebu tourist guidebooks published in Korean to see if Cebu's history has not been emasculated like this particular tome. Or else, Koreans will go home to their country terribly misinformed about the colorful history of this island province.
Posted at Tuesday, February 17, 2009 by CAFFiend
Permalink
| | |
| --- | --- |
| | Thursday, February 12, 2009 |
Dear Eterio - the comment writer:
Please get yourself an education before you copy paste Manilog-Tagawg Propaganda and post it on my blog. In response to your misguided "observation" I shall repost a blog entry I made years ago, for your perusal and enlightenment.
The new catch word for the dailies these days is "denigrate".
Let us first define the word Denigrate (and no, you ignoramus, it does not come from the word ******)
denigrate
Is a verb which means to beliittle, it is synonymous with besmirch, sully and defame.
Now we go on the very controversial lines from a tagawg movie entitled Sakal, Sakali, Saklolo (Choke, Perhaps, Help) starring Judy Ann Santos and Ryan Agoncillo. In a particular portion of this film, which by the way I haven't seen yet, nor even plan to watch as I detest local movies --by local, I mean, Tagawg --(is there any other movie other than in Tagawg these days?)
One particular scene where a grandmother was telling a nanny (yaya) in Tagawg ( I detest using the word Fiipino/Pilipino as it is non-existent): "Bakit pinapalaki ninyong Bisaya ang apo ko?" (Why are you rearing my grandchild as a Bisaya?)
The mother then butts in and tells the nanny: "Speak to the kid in Tagalog. Parang Pinoy. (So that he grows up like a Pinoy)."
Now tell me, is this something new? I've heard this a million times before and I don't give even half a rat's ass. Let me tell you why, as a subjugated people, WE, the NON-TAGAWGS are nothing more than second class citizens in this country of ours. Since when have WE been on the same footing as the Tagawgs?!
85% - 90% of the time whenever you watch a TV show or a movie where there is a domestic helper, from which ethnic group do you think that DH comes from? Judging from the accent, that person would be Non-Tagawag, or perhaps specifically, BISAYA. And don't tell me that what you saw and heard in the cinema is new.
NON-TAGAWGS are always portrayed as the "innocent" provinciano, the imbecile, the household help. What can we do? We are after-all just second class citizens anyway. We are a subjugated people and as such, imperial manila and every ignorant screenwriter can besmirch our reputation as a people, nay, nation.
But then again, being a human being imbued with God-given pride in my ethnicity and with the right to berate others for such an egregious error as to imply that only the TAGAWGS ARE FILIPINOS,
I shall, in my own humble way, educate the maleducated Tagawg.
Firstly, let us go back into the discussion of this so-called National Language called Filipino. Controrary to what the common idiota and ignorante tagawg might think, local languages such as Bisaya is a LANGUAGE. Not a dialect. Why is it not a dialect, firstly, are Tagawg and Bisaya (including Cebuano, Waraywaray, Ilonggo, Eskaya, Bol-anon, Surigaonon, Tandaganon, etc.) mutually intellegible? No. But I am no expert in linguistics, hence we shall continue to the National Language Issue.
In the 1930's, the First Independence Congress was convened and therein, Lope K. Santos addressed the body with his "Vernacular as a Factor in National Solidarity and Independence." Two years later, Representative Gallego authored Bill 588 which provided for the use of the VERNACULAR as the medium of instruction in all public elementary and high schools. Note however that there was no such thing as Filipino then --or the monstrosity that it is now--
The Constitutional Convention of 1934-1935 tackled the national language issue head-on, thus it came out in Sec. 3 Art. XIII of the American-guided constitution that, " (t)he National Assembly shall take steps toward the development and adoption of a common language based on one of the existing native languages xxx"
Commonwealth Act 184 gave birth to the National Language Institute in 1936. This institute was given just a YEAR to find which native language shall be the core and after determining said native language, it was given another two years to prepare its grammar and dictionary sans words of foreign influence. Whoopidoo.
In 1937, the Institute recommended Tagalog and came up with the Balarila and the Tagalog- English Dictionary. In 1959, the Department of Education called the Tagalog-based national language Pilipino. In
1965, some congressmen took the cudgels againsts the propagation of Pilipino, which to them is "puristang Tagalog," as the national language. This period witnessed the purists coining words like salumpuwit (chair), salimpapaw (airplane), sipnayan (mathematics), etc. In 1969, some non-Tagalog speakers, like the Madyaas Pro-Hiligaynon Society and some Cebuano groups complained against the movement of Manila toward "purismo." This gave rise to the problems that needed to be resolved before the non-Tagalog speakers could accept Tagalog as their own "wikang pambansa."
Be that as it may, the Board of National Education ordered in 1970 the gradual shift to Pilipino as medium of instruction in the elementary starting with Grade 1 in the school year 1974-75 and progressing into
higher grades, a level each year. It was also adopted as the medium of instruction for Rizal and history subjects in colleges and universities. In 7 August 1973, the Board of National Education introduced the
bilingual approach to teaching --that is, using two languages as media of instruction in the schools, to wit: the vernacular for Grades I and II, Pilipino for Grades III and IV, Pilipino and English for secondary and
tertiary levels.
This bilingual approach serves to promote the intellectualization of the national language --that is, to use it as medium of intellectual exchanges in the academe, government offices, as well as in other disciplines in the process of acquiring knowledge about the world which could be expressed by the said language. In addition, it will bring about a national unity and identity among Filipinos, as they can now express themselves and communicate with each other in a common language.
The 1973 Constitution states the National Assembly should endeavor towards developing and formally adopting a common national language to be called Filipino. Meantime, Pilipino and English remain the official languages unless repealed by law. Filipino is anchoredon Pilipino. Pilipino has borrowed and adopted a lot of words from the Spanish lexicon, Spain being the country's colonizer for over 300 years. These words are carried over to Filipino as Pilipino, as these lexical items have now undergone phonological and morphological processes and appear to be native terms. The borrowing from Spanish has now somewhat waned. What is prevalent in Filipino today is the rampant borrowing from English. Tabloids, dailies, weeklies, showbiz magazines, even the Cebuano weekly Bisaya are awashed with English words. The academicians as well as the newscasters in radio and television have adopted English words freely and liberally.
The evolution of the Wikang Pambansa, now known as Filipino, has not remained uneventful, as one finds out from the its historical perspective in the previous section. From 1935 onwards, to the present 1990s we have seen this language develop, first as Tagalog-based that barely ill-disguised itself as the "national language"--a clear victory of Manuel L. Quezon and the espousal of the tagalistas over the Bisayan hopes of Sotto and his Ang Suga advocates-- then, in 1959 acquiring the term "Pilipino"given to it by executive fiat to remove the last vestiges of "tagalogism" and imprint its national character. In 1965, when the "puristas" (purists) attempted to enhance the vocabulary through artificial wordsmithing and thereby intensifying the 'word war" with their critics. Then, beginning in the 1970s which saw Pilipino finally being used as medium of instruction at the primary and secondary levels of public and private schools. And, lastly, from its 1987 constitutional enshrinement as "Filipino" to the present --an amalgamation of Pilipino/Tagalog, Spanish, and a preponderance for English in respelled forms.



--Jessie Grace U. Rubrico
Hence, FILIPINO, or whatever the hell that is, is the lingua franca of Metro Manila. Does it include other metropolitan areas in the country? NO.
Article XIV section 6 of the 1987 Philippine Constitution provides that "(t)he national language of the Philippines is FILIPINO. As it evolves, it shall further be developed and enriched on the basis of existing Philippine and other languages. xxx)
However, what is FILIPINO? Has it really evolved? Sometime in May 13, 1992, the Commission on the Filipino Language (or whatever the hell FILIPINO is) issued a resolution stating that "Filipino is the written and spoken language of Metro Manila and other urban centers in the Philippines used as the language of communication of ethnic groups" but it comes short to saying that TAGAWG is FILIPINO. But on the contrary Inday, isn't 90% of so-called Filipino based on Tagawg? And rightly so.
Hence, by whatever color of shirt a monkey wears, it will always be a monkey. In this case, a monkey by the name of Tagawg dressed up as Filipino and passes itself off as Filipino, but still a monkey though.
In this regard, Filipino will always be based on Tagawg and for the high brow ignorante Tagawg, Cebuano and non-Tagawg languages are not Filipino.
But let's go back to the constitution, it mentions the word "evolves", what does that mean? Does it mean that this monstrosity called Filipino be made up of words from Tausug, Ivatan, Waray, Cebuano, Tagawg to Lumad-non and lumped into this utterly disgraceful "lingua franca" based entirely on Tagawg syntax and grammar? That's what they hope to do.
But let's face it, when we say Filipino (as a language - so called) it really means the language of Metro Manila, which is Tagawg, there's no denying it. While most of our schools focus on this bastardized language, our regional languages are slowly eroded away into oblivion by supplanting it with this utterly foreign and horrid language where the "salumpuwit" (ass-catcher) takes the place of "silya".
Let's face it, as numerous as our islands are, our languages are also numerous. And yet, the ignorante Tagawg still insists that non-tagawg languages are nothing more than dialects. Dialects of what? Filipino? Is Cebuano and Tagawg mutually intelligible? Hell no. Nor would Ivatan and Tagawg for that matter would also be. Therefore, what is Filipino?
It is non-existent. So too is our so-called Filipino identity and culture.
In the same light, when we speak of history and culture, we are talking about Tagawg-centric history also. Did they ever teach you of your local heroes in gradeschool? Hell no. Back then we had Civics and Culture, now, kids have Sibika at Kultura. Sibika at Kultura of what and where? But of course, imperial Manila.
Much will be lost, in terms of history and culture, when our regional languages are supplanted by this virus of a language, not to mention a freakishly frankensteinish "language" based entirely on Tagawg syntax and grammar called Filipino.
Therefore, I am not a Filipino and I have never considered myself even one from the beginning as I am a Cebuano, a Bisaya, A NON-TAGAWG. And fcuk Rizal and that allegorical quote about language and stinky fish, may I remind the ignorante tagawg: He wrote in Spanish and English you fool! He sucked at his own beloved Tagawg which has now become Filipino -- or whatever the hell that is.
Posted at Thursday, February 12, 2009 by CAFFiend
Permalink
This is a repost:
Philippine Daily Inquirer
First Posted 01:59:00 01/12/2008
by
GERALD F. MISA, 917 Palawan St., Sampaloc, Manila
The
ethnic slur against Cebuano-speaking Filipinos
, (commonly referred to as "Bisaya") in the Filipino movie "Sakal, Sakali, Saklolo"
does not come as a surprise.
(Inquirer, 12/28/07)
The Tagalogs have long
taunted
,
mocked
and
shown prejudice
against the peoples of Mindanao and Cebuano dialect-speaking provinces of Bohol, Cebu, Leyte, Negros Oriental, Siquijor and Southern Leyte.
And Sen. Aquilino Pimentel should not have complained that the slur hinted that only the Tagalogs are the real Filipinos.
Indeed, the real Filipinos are only those who speak or write the Tagalog language -- those in Metro Manila, Bulacan, Cavite, Laguna, Batangas and other Tagalog-speaking areas.
Having been born in Marawi City and raised up, studied and finished my education in Cebuano-speaking, predominantly Christian Iligan City, I have never considered myself -- since childhood -- a "Filipino."
I am known as a "Filipino" because of an
imposed citizenship,
but by heart and by choice I am a proud Mindanaoan who longs to have a separate republic for my fellow Cebuano or Bisaya-speaking Mindanaoans, who would be better off governing themselves than be subjects of the imperialist North.
Why join the Tagalogs in proudly proclaiming themselves Filipinos when they do not even consider us, "mga Bisaya" their equals and fellow Filipinos?
A Tagalog mocking a Bisaya's flawed Tagalog does not shock me.

He hurts and offends me.
Hearing or seeing a Caucasian discriminate against a Filipino - meaning, a Tagalog -- does not affect me. But when a foreigner heaps racial slurs on a fellow Cebuano-speaking Boholano or Davaoeño, I am deeply saddened and offended.
Every day, bigotry is committed against a Bisaya -- on TV shows, on radio programs, on the streets and inside buses, trains, passenger jeepneys, malls, department stores, even churches. Everywhere. It pains me to hear the deejay of an early morning FM radio program having fun emulating the way a Bisaya speaks Tagalog with a distinctly heavy or regional accent. When a Bisaya mispronounces a Tagalog word or two, a Tagalog bursts into laughter.
Tagalogs joined those who demanded an apology from a Canadian school where a Caucasian teacher called a child of a Philippine immigrant couple a "pig" for eating with a spoon. The child's mother came from Misamis Oriental, a Cebuano-speaking province. Why did the Tagalogs feign sympathy for the family with a Bisaya blood? It was a classic display of Filipino hypocrisy, the same "plasticity" Tagalogs show every time Manny Pacquiao beats his opponents. They "rejoice" although they laugh at him because of his Bisaya accent.
Posted at Thursday, February 12, 2009 by CAFFiend
Permalink
| | |
| --- | --- |
| | Wednesday, February 11, 2009 |
The reason for tagalization(sic) or filipinozation(sic) is a mere fact that the philippines(sic) national language is Pilipino(sic)
. - Eterio
---
I will ask you, what is Pilipino by the way?
You Sir, are incorrect in saying that the "national language" is "Pilipino". Under the 1987 Constitution it is termed "Filipino" (your assertion is already erroneous. Read Art. XIV, section 6 of the 1987 Philippine Constitution so that you may be enlightened before you post any comment which is beyond any proof and/or logic.
What does Section 6 say? It says, xxxx "as it evolves (i.e. Filipino) it shall be further developed and enriched on the basis of existing Philippine and other languages." So, it is still evolving, 90% of this Filipino/Pilipino of yours is Tagalog... unless and until there is homeostasis with the other regional languages, it is still Tagalog: it has not evolved to an extent that it has achieved homeostasis or balance with the other regional languages.
Secondly, par. 2 of section 7 provides that "The regional languages are the auxiliary official languages in the regions and shall serve as auxilliary media of instruction." No where does it say that Tagalog shall supplant the regional languages; the sad reality is, Tagalog is alreay supplanting the regional languages in the form of this "Filipino".
Just read the constitution and get yourself some gray matter between your ears. No matter how much you tout and post non sequiturs here, it will fall on deaf ears as your argument is beyond logic and reason. Do not be an ignorante, which you are, you really really are.
Posted at Wednesday, February 11, 2009 by CAFFiend
Permalink
| | |
| --- | --- |
| | Wednesday, February 04, 2009 |
Kaso lang, it's in English.
While reading some of my nasty soliloquys on this blog, I came across this particular comment: "
maganda yung insights mo, kaso lang, it's in English.
" With my famed aversion to Tagalog, why the hell would I write in that language -Tagalog, eh? "Kaso lang it's in English" speaks more to me than a flat out "it would have been better in Tagalog." And why is that?
For one, it shows that the so-called Filipinization (did I use the F word? I meant Tagalization) of TV shows, it has made most of the people, especially in the Metropolitan Manila area a brainwashed bunch of ignorantes lacking the necessary skills in understanding literati. So what if what is written is in English? It's not as if you cannot understand English, can't you? And in the same breath, the Tagawg, still insist on saying that Filipino is the National Language. Oh please, give me a break. Go try and brainwash your idiot child with that rhetoric. Since when did I ever consider Filipino as the National Language? I never have, and I will continue not to.
"Kaso lang, it's in English" is a comment by a mis-educated and misguided ignorante. It is a very sad fact that only a percentage of Filipinos today can talk straight in English, most of the time, majority of the Filipinos out there talk in a rather odd mix of Tagalog and English or whatever regional language plus English which I find utterly disgusting and shows an utter disregard of the importance of what has been learned during one's formative years, but considering how the state of affairs of our education system is now, I don't have to wonder why people talk in gobbledygook Tagalog-English.
It's simple really, if you cannot stand reading something in a different language, why bother reading it at all? Do you think your somewhat glib remark would earn you praise? I hardly think so.
And yes, I do not like Tagalogs, never have, never will. And I do not like this
mierde
so-called language called "Filipino". It is simply Tagalog in disguise as a so-called National Language. Tagalog, in the words of friend of mine, is the language of stutterers and slaves. I don't have to elaborate that. You, Mr. Tagalog, use your brain. How is it that I have the gall to say that it is the language of stutterers and slaves? Think deep. Look into your heart.
Hahanaphanapin mo talaga sa puso't utak mo kung bakit ka mamimilipit
. (Take note of the words
hahanaphanapin
and
mamimilipit
and tell me,
is that not Stuttering?
) I rest my case. And that "Po" thing is not flattering, mind you. You subordinate yourself to an equal? Such a thing would never happen to non-Tagalogs. Try talking to a Visayan, he'll talk to you in an egalitarian way; not only would a Visayan talk to you as an equal, talk to any other non-Tagalog. See the difference? Why lower yourself to an equal. Come to the Visayas and use your po and opo, oho crapola and I'll show you how it feels like to be lying dead on the shores of Mactan.
So much fuss about language. Tagalog? BAH HUMBUG! MIERDE!
Posted at Wednesday, February 04, 2009 by CAFFiend
Permalink